NC DWI Charges Against Out of State Drivers
Raleigh, North Carolina attracts visitors from all over the country for both business and pleasure, as do our beautiful coastlines.  A vibrant city, Raleigh offers everything from conventions and festivals to nationally anticipated sporting events, while Morehead City offers fine eateries, festivals, and picturesque beaches.  All of these activities may involve the consumption of alcohol. Coupled with reduced inhibitions travel often provides, these events directly increase the number of DWI charges against travelers and out-of-state defendants.  If you have received a DWI charge under North Carolina law but don't live here, consult a North Carolina attorney with experience in representing out of state defendants. The DWI lawyers at DeMent Askew & Johnson can help mitigate consequences you might face in North Carolina and help you understand resulting ramifications in your state under the national registry known as the Drivers License Compact.
Most people have no awareness that many states share traffic violation information through the Driver's License Compact, a national registry created for that purpose. While communication through the Drivers License Compact can take some time, you should expect that eventually your state of residence will be made aware of your North Carolina DWI conviction.  It is entirely possible you will then be punished according to your residential state's own DWI laws and insurance penalties. Likewise, a North Carolina driver who receives a DWI charge in another state will ultimately receive the same suspension of the driving privileges North Carolina would impose if the offense took place in its jurisdiction.
Conviction of  DWI in North Carolina will result in suspension of your North Carolina driving privileges for at least 1 year.  Depending on your BAC (blood alcohol content), you may be able to acquire limited privilege to drive in the state.
In many cases, we can help mitigate damages to you that occur based on sheer distance from North Carolina Courts.  For many required court appearances, we may be able to appear in court on your behalf, saving you the time and expense.  When that is not possible, we can help arrange court dates and assessments at times most convenient for return travel. These may include assisting you with:
Payment of any court costs or fines in advance;

Obtaining a substance abuse or alcohol assessment and, if recommended, treatment; and

Locating local non-profit organizations to complete 24-48 hours of community.
We can often be helpful in arranging court-imposed or agreed upon treatment and/or community service to be approved and completed in your state of residence.
The lawyers at DeMent Askew & Johnson have over 40 years of experience defending DWI charges in North Carolina, including those against out-of-state defendants.  Our criminal defense lawyers will thoroughly evaluate your charge and help you understand the options available to you, including your best and worst case scenarios.  We will take every measure to lessen any inconvenience to you and increase your chances of successfully resolving your DWI charges and of completing requirements and penalties imposed both in North Carolina and your state of residence.  Call us today to speak with one of our DWI defense attorneys for a free consultation at 919-833-5555.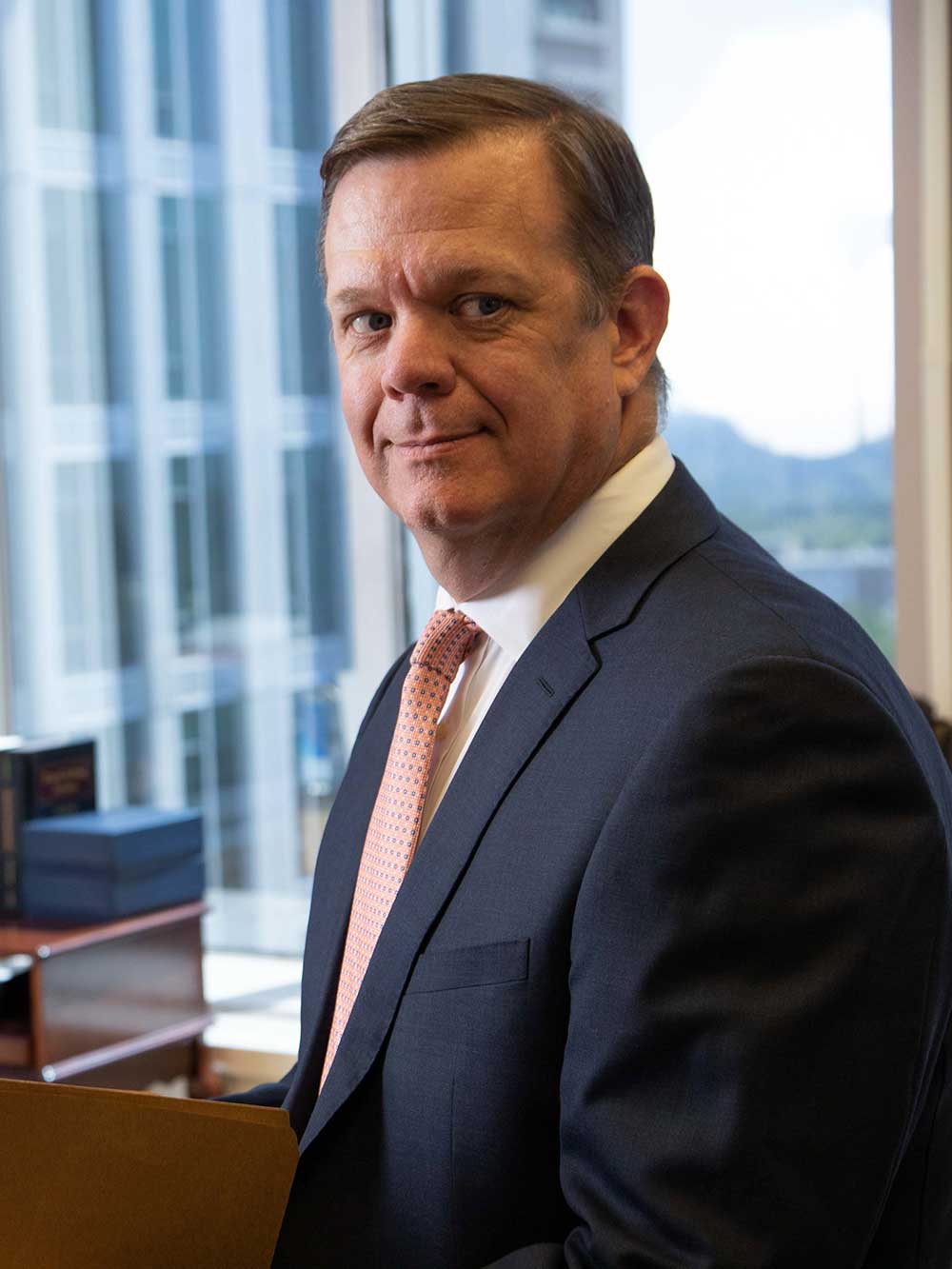 Russell W. DeMent III
Learn More About DWI Charges in NC
Important DWI Information
If you are charged as a result of a traffic stop and the officer suspects impairment from alcohol, you will likely be taken to a police department or downtown Raleigh for a chemical test of your breath.
Important DWI Information

333 Fayetteville Street, #1513
Raleigh, NC 27601-2950
MOREHEAD CITY OFFICE:
810 Arendell Street
Morehead City, NC 28557
Defendant had a head-on collision with injuries to both parties. He was given field sobriety tests on the scene of the collision and did not perform well on those tests with the exception of the Horizontal Gaze Nystagmus (HGN) test where he showed no signs of impairment from any central nervous system depressant. He admitted…
Read More
CRIMINAL DEFENSE SERVICES