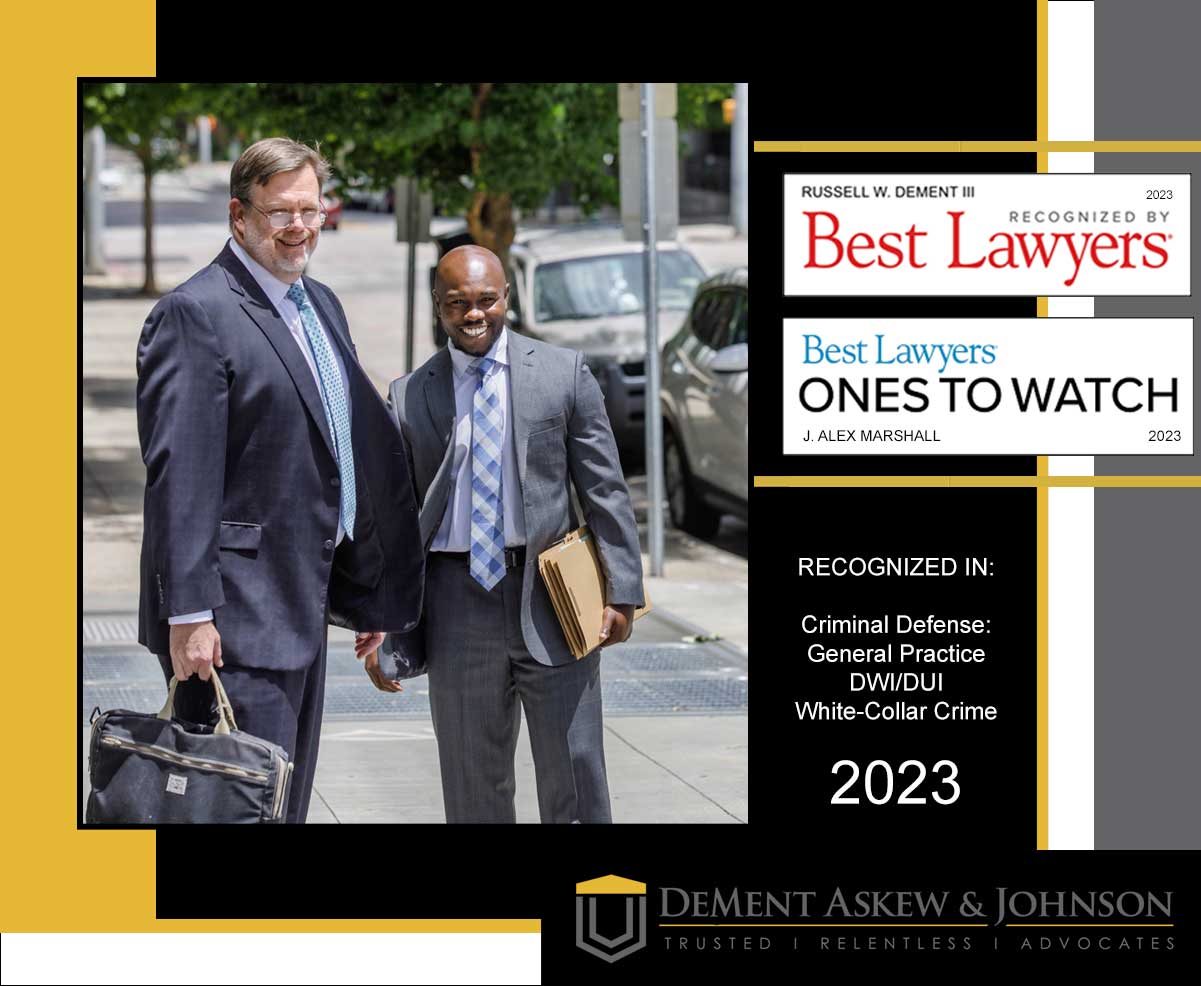 DeMent Askew & Johnson Lawyers Honored by Best Lawyers in America 2023
We are pleased to share that Russell (Rusty) DeMent III has been listed in the 2023 Edition of Best Lawyers in America's Criminal Defense: General Pracitce and DUI/DWI Defense Sections. We are also excited to share that Alex Marshall has been included in the 2023 Ones to Watch in the Criminal Defense: General Practice and White-Collar Sections. This is Rusty's seventh appearance on the Best Lawyers' list. This is Alex's first appearance on the Ones to Watch list, which is just a few years old.
Rusty is an AV Preeminent Peer Rated Lawyer at Martindale Hubbell, is included in the criminal defense section of Business North Carolina's Legal Elite, and is named to North Carolina Super Lawyers. Best Lawyers named him the 2021 Lawyer of the Year in DUI/DWI practice for the Raleigh Metro Area.
Alex Marshall joined DeMent Askew & Johnson in mid 2021 following six years of practice at the Wake County Public Defender's Office. Alex was recently recognized through peer review at Martindale-Hubbell as an AV Preeminent Peer Rated Lawyer, just prior to his Ones to Watch nomination.
Best Lawyers© conducts an exhaustive peer-review survey of listed lawyers practicing within like legal specialties and geographical areas. More information about Best Lawyers and the Ones to Watch inclusion methodology is found on their website at https://www.bestlawyers.com/methodology.
Established in 1968, the lawyers at DeMent Askew & Johnson, we represent clients in the areas of criminal and DWI defense, personal injury, defamation, malpractice and negligence, as well as real property, wills, estates, and trusts matters. A second-generation firm, DeMent Askew & Johnson is a beacon of stability and has been centrally located in downtown Raleigh on the top floor of 333 Fayetteville Street for five decades. Find out more about our firm and how we can help you at www.dementaskew.com.