STUDENT/MINOR DISCIPLINE
North Carolina college students subject to discipline by their university have the right to be represented by an attorney in certain proceedings before their university tribunals, a right not afforded to college students in every state. If you are under scholastic or disciplinary investigation or facing charges of misconduct by your university, the list of reasons to take advantage of your right to counsel is long.  With your investment in your education at stake and your future on the line, your interests are best supported through the guidance of qualified and experienced legal counsel familiar with the state's university discipline system.
Our student defense attorneys are well-versed in the various universities' codes of conduct.  We have years of experience, appearing countless times before university tribunals on behalf of students.  We can help you understand what you can expect and how to best prepare your defense to prevail at a hearing before your university's tribunal.  Having defended students charged with all manner of alleged misconduct by their respective universities, we can defend you against any charge of misconduct.
Underage Alcohol Charges
University charges of misconduct involving underage alcohol charges include but are not limited to the following:
Consumption and/or possession of alcohol

Fake IDs

Purchasing alcohol for underage drinkers and/or aiding and abetting underage drinking

Underage DWI
Jeopardy students may face in state court does not curb investigation and discipline by your school. There is no double jeopardy standard that applies here, and the ramifications of each are damaging in different ways. Often university investigations occur secondary to charges through the criminal justice system. At DeMent, Askew & Johnson we have decades of experience and skill defend young people against underage alcohol infractions in all stages of proceedings before your university tribunal and through the criminal justice system.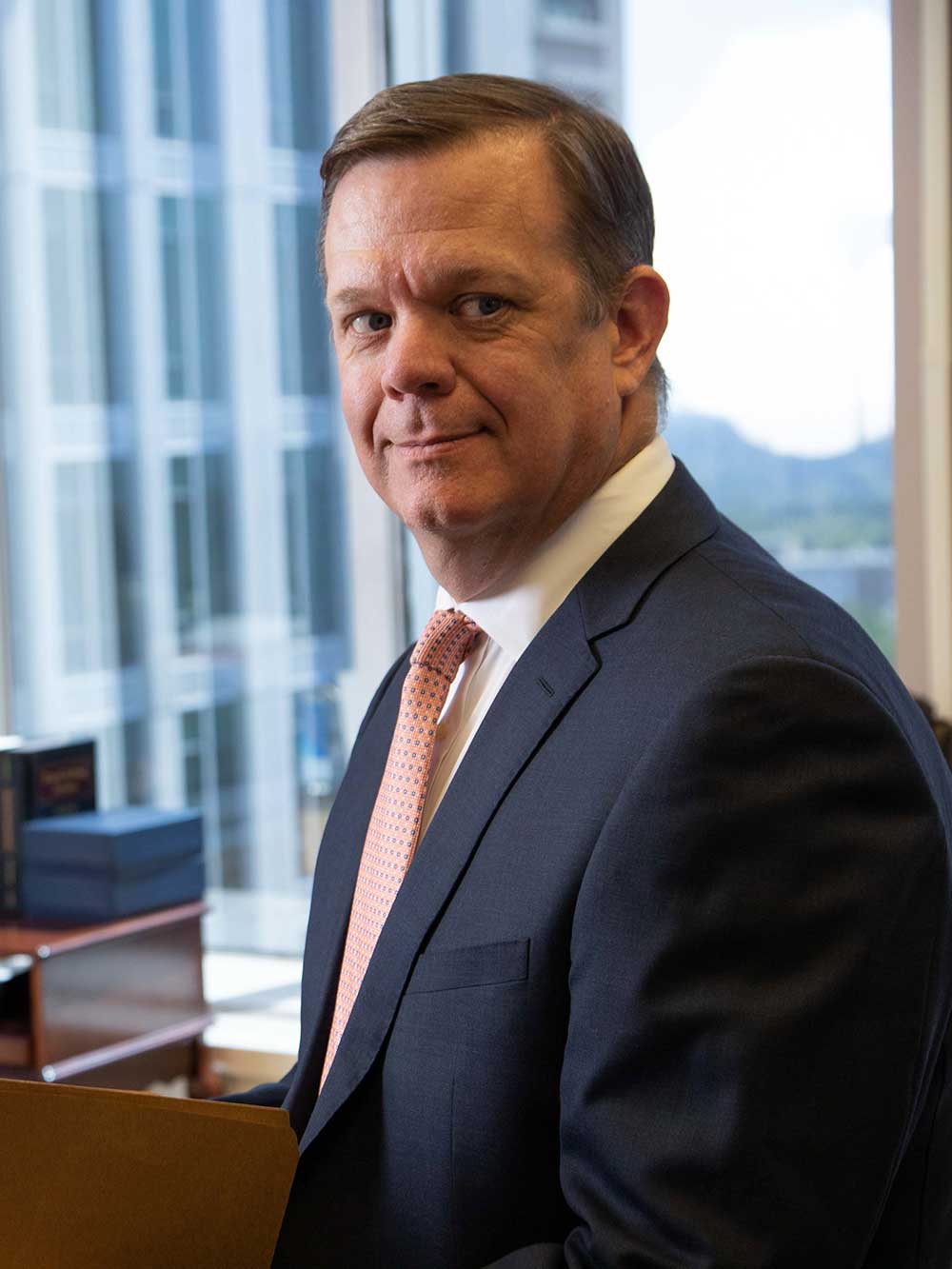 Russell W. DeMent III
Student Honor Court
Every university has its own code of conduct or Honor Code. The Honor Code includes rules governing academic matters such as student honesty and integrity, with which students must abide.  Likewise, every university has its own tribunals to enforce the code, conduct hearings, and determine appropriate sanctions for student misconduct. These sanctions may include expulsion, suspension, or a permanent notation on your academic record, all of which jeopardize your investment in your education.
The Student Honor Court is the tribunal at a university charged with enforcing and ensuring student compliance with the Honor Code.  If you are subject to discipline for misconduct alleged under your university's honor code or are otherwise compelled to appear before your university's student honor court, your right to an attorney is limited.  Even though an attorney may not be able to appear in person on your behalf in honor court proceedings, we can help prepare you for the process and to represent yourself.
University Disciplinary Hearings
The criminal justice system and the university discipline system often overlap. Students may find themselves simultaneously facing criminal charges in a state court through the criminal justice system as well as charges of misconduct before a university tribunal.  The most common charges that might instigate university discipline and contact with law enforcement and the criminal justice system include:
Disorderly conduct

Underage possession of alcohol

Possession of marijuana for personal use

Possession of marijuana with intent to distribute

Possession of a Controlled Substance

Prescription Drug Charges

DWI and DWI under 21

Fake ID possession

Assault
Acquittal through one disciplinary proceeding does not ensure the same result in the other. It is important to have legal representation well versed in both.
Our office is conveniently located near university campuses in and around the Triangle area, and we've recently opened a satellite office in Morehead City. We have extensive experience representing college students before the various university tribunals. We have helped students through every stage of the disciplinary process for decades.  We are skilled and accomplished trial lawyers. We can fully explain all aspects of your case, thoroughly evaluating your disciplinary charges and building your defense, and keep you informed as we proceed. If you are charged with or under investigation for misconduct before your university, we are the experienced attorneys you want at your side.  Call DeMent, Askew & Johnson today for a free consultation at 919-833-5555, and take the first step towards preserving the future you have worked so hard to create.
Criminal Law Articles from the Blog

333 Fayetteville Street, #1513
Raleigh, NC 27601-2950
MOREHEAD CITY OFFICE:
810 Arendell Street
Morehead City, NC 28557
The defendant involved in a wreck on a moped. The defendant was found by emergency responders beside the moped with injuries consistent with being involved in an accident. Defendant was transported to the hospital where law enforcement responded. Upon entering the hospital room officers smelled a strong odor of alcohol and the defendant admitted to…
Read More
CRIMINAL DEFENSE SERVICES