CARELESS,  RECKLESS DRIVING & AGGRESSIVE DRIVING
If you have been charged with a criminal traffic offense, you are facing serious consequences and have much greater concerns than restrictions on your driving privileges and payment of fines and increased insurance premiums.  Serious traffic offenses carry serious penalties that can affect you for the rest of your life. Securing the skill of a traffic offense attorney experienced in handling serious traffic offenses in North Carolina is the best investment you can make to preserve your freedom and protect your future.
Careless Driving, Reckless Driving, and Aggressive Driving
Careless driving is considered a lesser included offense of reckless driving, reckless driving is a lesser included offense of aggressive driving, and these three offenses can often be the source of some confusion. These driving offenses are each separate crimes under North Carolina law.  Even so, these offenses are frequently referred to interchangeably.
Careless driving is commonly referred to as "Careless and Reckless Driving" and is often prosecuted as reckless driving.  North Carolina law makes clear, though, that careless driving is a separate criminal offense from that of reckless driving or aggressive driving.  Careless driving generally includes driving in a manner that could result in damage to another person or to property. A charge for careless driving implies that the driver lacked any motive or intent to cause injury or accident.
Reckless driving in North Carolina is defined broadly and gives law enforcement wide discretion in bringing criminal charges and a certain advantage in securing convictions.  Reckless driving can be charged whenever a driver operates any "vehicle" in a manner that is carelessly and heedlessly in willful or wanton disregard of the rights or safety of others. In addition to proving reckless driving, a charge for aggressive driving requires proof of a speeding violation under North Carolina law. Charges for reckless driving and aggressive driving imply knowledge regarding the dangerous nature of the driving and a disregard for the safety of other people or property.
Even if you are not necessarily driving in a careless or reckless manner, you may still be charged with reckless driving.  Driving 15 miles over a posted speed limit of less than 55 mph, or speeding over 80 mph, can result in a charge of reckless driving.  reckless driving is a Class 2 misdemeanor and results in:
an automatic suspension of your license for 30 days

the possibility of a prison sentence of up to 60 days

the accumulation of 4 points on your license

a license suspension of up to 1 year

and over $1000 in fines and fees for court-ordered programs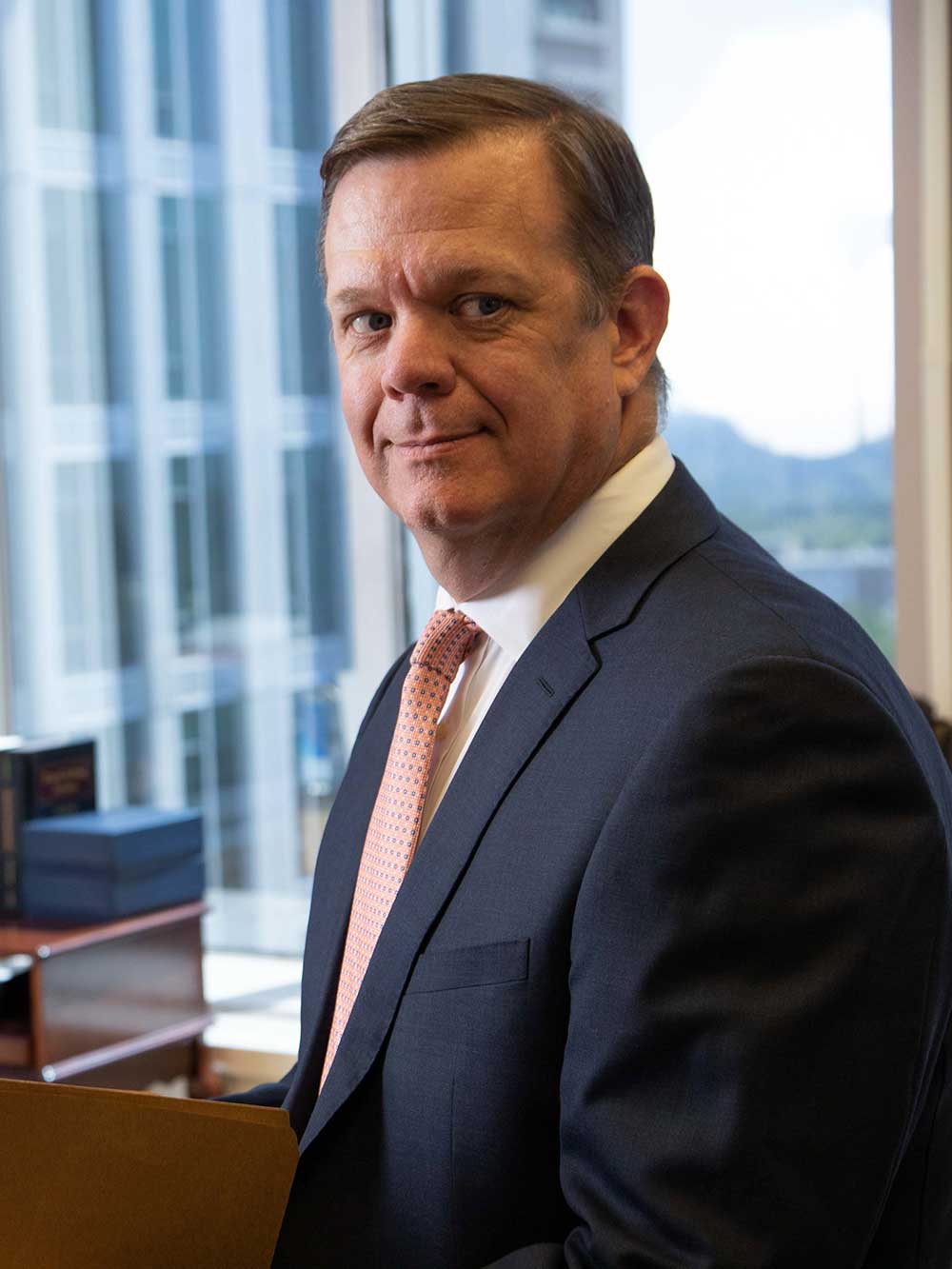 Russell W. DeMent III
Classified as a Class 1 misdemeanor, a charge of aggressive driving is an even greater offense than reckless driving.  All of these charges will result in a severe spike in your insurance premiums that can last for years.
The criminal defense attorneys at DeMent Askew & Johnson regularly defend charges of careless driving, reckless driving, and aggressive driving.  We will thoroughly review the facts of your particular case with you, and we will get to work on your best defense right away. Even as we work with the prosecutor's office towards getting your charges dismissed or significantly reduced, our defense attorneys are first and foremost trial attorneys with the skills and experience to put together your best defense to prevail in the event of a trial. Call us today to speak with one of our traffic attorneys for a free consultation at 919-833-5555.   

333 Fayetteville Street, #1513
Raleigh, NC 27601-2950
MOREHEAD CITY OFFICE:
810 Arendell Street
Morehead City, NC 28557
Client charged with driving while impaired. LEOs respond to a serious collision where someone being taken to the hospital in EMS vehicle upon troopers arrival. The vehicle had flipped 2 times and landed in the median. Based upon information obtained at the scene, the LEO finds my client in the hospital with injuries consistent with…
Read More
CRIMINAL DEFENSE SERVICES