VIOLATION OF
PROTECTIVE ORDERS
Under North Carolina law, protective orders, also referred to as 50B's and restraining orders,  are granted by a judge to prevent one spouse or domestic partner from causing harm to the other.  Accusations that the "victim" must make in order to obtain a protective order can include the following:
Attempts to cause bodily harm;

Causing bodily harm;

Stalking;

Harassment;

Causing a family member to fear bodily harm
The purpose of a protective order is to prevent one party from being able to contact the other. The order is not reciprocal and does not necessarily stop the alleged victim from being allowed to contact the Defendant. Once a protective order is in place, the person accused sometimes fails to realize that they can violate the order by responding to the party who originally asked for the protective order. This is true even if the accused is not the one to initiate contact. 
Criminal charges arising from violation of protective orders often involve parties who are disgruntled and angry.  All too often, the party originally seeking the protective order acts in a calculated manner to trick the other into a criminal charge by initiating contact and asking the Defendant to respond to them. Even if the alleged victim contacts you, if there is a protective order in place against you, it is still against the law to respond. 
In some circumstances a disgruntled spouse or partner seeks the protective order, not out of any real fear or threat of harm but, instead, to hurt the other party.  The disgruntled spouse or partner may be attempting to gain some advantage in a domestic matter, such as divorce or custody case. An experienced attorney is able to attack the protective order and show the Court that the allegations made in the complaint to obtain the order are false.  
If you have been charged with violating a protective order it is important that you seek the assistance of an experienced attorney. Our team of criminal defense attorneys has extensive expenses in defending against violations of protective orders. Violations of domestic violence protective orders have serious long lasting implications. Our firm has over 40 years of experience. Our team of criminal defense attorneys with decades of experience in defending charges arising out of alleged violations of protective orders in and around Wake and Carteret County.  Call us today for a free consultation with one of our criminal defense attorneys at 919-833-5555.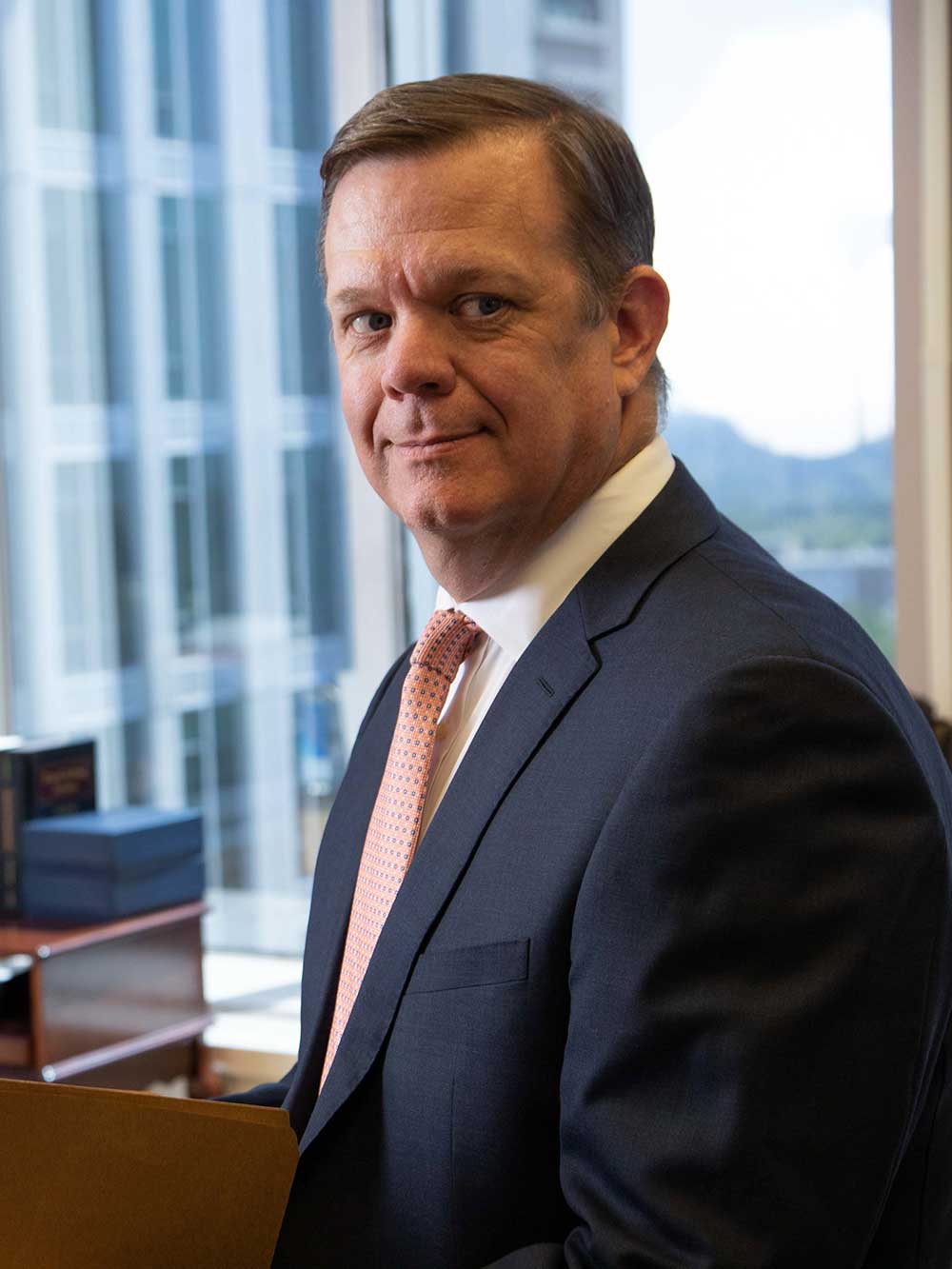 Russell W. DeMent III

333 Fayetteville Street, #1513
Raleigh, NC 27601-2950
MOREHEAD CITY OFFICE:
810 Arendell Street
Morehead City, NC 28557
The defendant was stopped for speeding on the interstate by North Carolina State Highway Patrol. When the troopers approached the vehicle, they immediately noted smelling a strong odor of alcohol and cigarette smoke. They also noticed that there was a child in the car. When the troopers ran the defendant's information, they discovered that he…
Read More
Defendant was found asleep in the driver's seat of his vehicle while his car was in the middle of the road. When he was found, his license was currently suspended for multiple prior DWI offenses. He was awakened by officers and asked to do standardized field sobriety tests. The defendant performed poorly on each of…
Read More
Client charged with level 3 trafficking in opiates which carried minimum mandatory sentencing of a minimum of 225 months (18 years 9 months) in prison. After months of negotiating with the prosecuting attorney and following a lengthy argument to the court, Defendant was sentenced to 65 months (5 years and 5 months) in prison with…
Read More
Defendant charged with Level 2 DWI with one prior within 7 years. Was facing a potential sentence of 1 year in prison. Defendant attended a treatment program and really changed her life direction while the case was pending. We were able to get the judge to agree to accept the inpatient treatment as credit for…
Read More
Client charged with DWI, driving while license revoked for impaired revocation, hit and run, and driving left of center. She was found on side of the road in driver's seat 400 yards from a collision, showed clues of impairment on the field sobriety tests and blew a .10 on the breath test. Found not guilty…
Read More
All evidence suppressed in DWI case for an illegal stop where the LEO observed my client pause in a parking lot for 30 seconds before leaving the lot and then crossed a center line during a turn at an intersection. Held "No reasonable and articulable suspicion" for a traffic stop.
Read More
Defendant charged with 2 counts of habitual impaired driving on his 7th total offense.  Were able to negotiate a plea consolidating the sentence to one term of 28 months in prison where he was facing the potential for 10 years or more.
Read More
Client stopped for speeding. LEO smelled odor of MJ about clients person. LEO search revealed burned MJ blunt. Defendant performed poorly on all physical tests but told the officer he suffered from a herniated disk in his lower back. On the horizontal gaze nystagmus (HGN) eye test there were no clues of impairment. A subsequent…
Read More
Motion to suppress and dismiss granted for lack of probable cause to arrest where my client was stopped for speeding, had an odor of alcohol, glassy eyes, admitted to drinking, as well as showed signs of impairment on the field sobriety tests. The court put little weight on the field sobriety tests because the officer…
Read More
Officers received a call about a suspicious person. When they arrived on the scene, they found the defendant in the driver's seat of a vehicle with his music turned up loud. They knocked several times, but the defendant did not answer the door. Officers opened the door and engaged the defendant in conversation. During the…
Read More
The defendant was employed at a fast food restaurant at which a shooting occurred. Upon review of the surveillance footage, officers were able to determine who the shooter was, and they were also able to see the defendant provide the shooter with the gun just moments before the shooting. The defendant was charged with aiding…
Read More
Client charged with driving while impaired. LEOs respond to a serious collision where someone being taken to the hospital in EMS vehicle upon troopers arrival. The vehicle had flipped 2 times and landed in the median. Based upon information obtained at the scene, the LEO finds my client in the hospital with injuries consistent with…
Read More
Client approaches a DWI roadblock. Smells of alcohol and performs ok on field tests though she does so some signs of NHTSA clues of impairment. She admits to drinking and blows positive for presence of alchol on the portable breath test. She is taken to the mobile breath testing bus at the checkpoint. She is…
Read More
Defendant charged with 2 counts of habitual impaired driving on his 7th total offense.  Were able to negotiate a plea consolidating the sentence to one term of 28 months in prison where he was facing the potential for 10 years or more.
Read More
The defendant was involved in a single car accident in which he ran off the road and struck a tree. Officers arrived to the scene and conversed with the defendant. The defendant could not remember where he was coming from and admitted to consuming several beers before driving. After conversing with the defendant, officers' requested…
Read More
Defendant had a head-on collision with injuries to both parties. He was given field sobriety tests on the scene of the collision and did not perform well on those tests with the exception of the Horizontal Gaze Nystagmus (HGN) test where he showed no signs of impairment from any central nervous system depressant. He admitted…
Read More
The defendant was an employee of a department store and was accused of stealing from the store. The store camera's showed the defendant, who was a cashier, not ringing up several items and placing it in a customer's basket. The defendant was approached by his store's loss prevention personnel and provided a detailed confession. Once…
Read More
CRIMINAL DEFENSE SERVICES