Traffic Crime
If you have received a traffic ticket in North Carolina, no matter what the charge it is a serious matter with long-term impact.  Hiring an attorney experienced with North Carolina traffic laws can be the difference between a fine and thousands of dollars over time in the form of increased automobile insurance costs.  Though some traffic violations are more serious than others, every traffic violation can have severe consequences, including heavy fines, substantial court costs, points against your license and your insurance rating, increased insurance premiums, and hours spent waiting in court.  More severe traffic violations, involving DWI/DUI or injury to persons or property, can subject you to more severe consequences, including felony charges, loss of your driving privileges, and loss of your freedom. While you may think the easiest thing to do is pay your ticket, it is an admission of guilt.  Talk to an attorney with the expertise to advise you of how simply paying your ticket may impact your continued ability to drive and pay for insurance.
Depending on the severity of the infraction, just a single traffic violation in North Carolina can result in the loss of your driving privilege. If you have had previous traffic violations you are more susceptible to driving privilege loss. The attorneys at DeMent Askew & Johnson have intimate knowledge of the traffic laws and years of experience in dealing with traffic matters and the DMV.  
Whatever your traffic charge or your driving history, we will immediately set to work on resolving your traffic matter so that your driving privileges and insurance premiums remain unaffected.  Hiring an attorney can save you more than just time and inconvenience -- it can save you substantial sums of money. At Dement, Askew & Johnson we have over 40 years experience handling the full array of traffic offenses in Raleigh, Morehead City, and across North Carolina, including but not limited to the following:
Aggressive/reckless driving

Unsafe movement

Speeding and zone infractions

Evading Arrest

Failure to yield

Driving with a revoked, suspended license, or invalid operator license

Driving with invalid insurance, registration, and/or inspection

Improper turns and other moving violations

Improper equipment

Failure to obey emergency vehicle signals

Passing a stopped school bus

Illegal racing

Underage driving offenses

Hit and run, abandoning an accident scene

Homicide, manslaughter, or negligent homicide involving a vehicle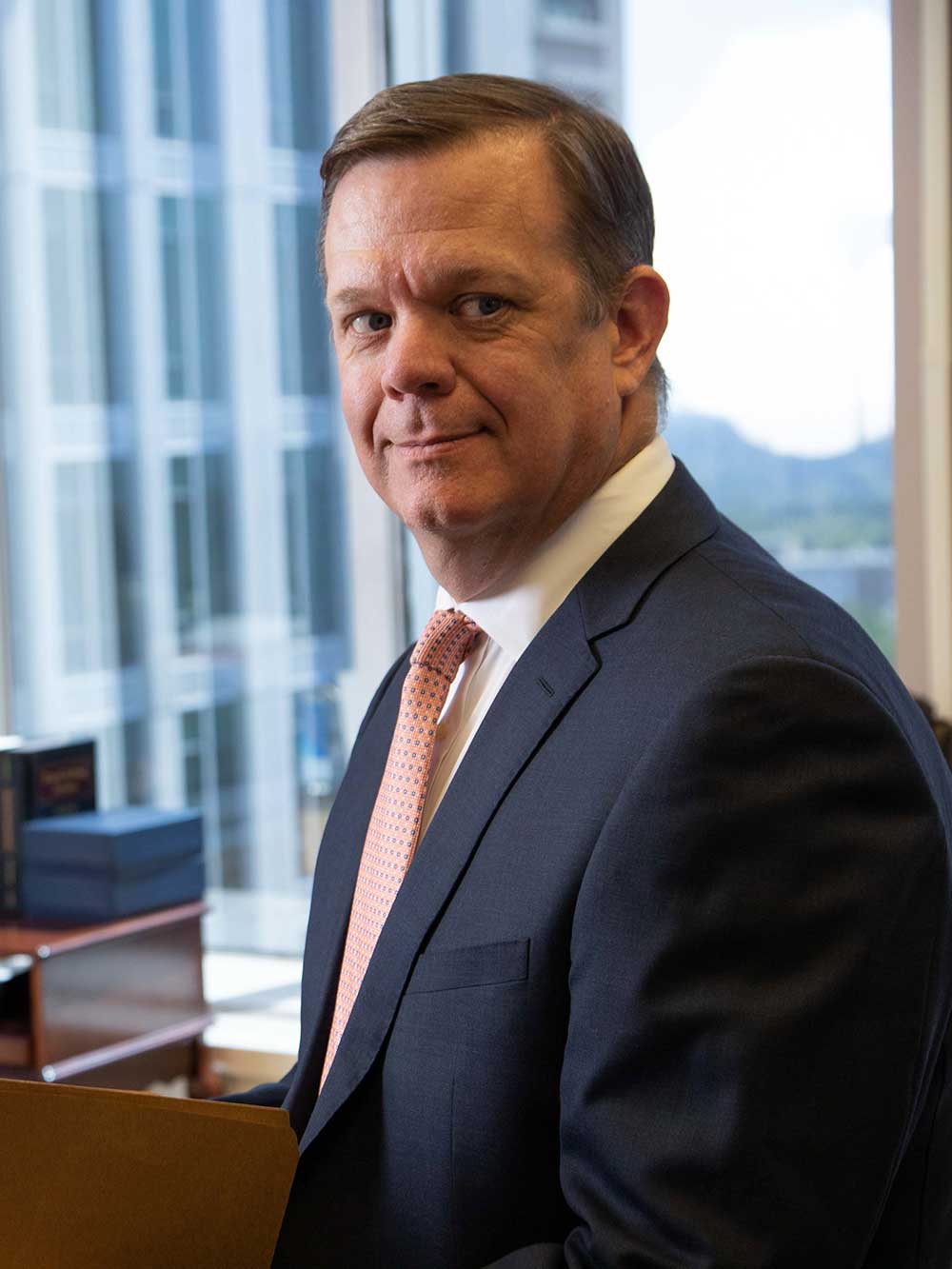 Russell W. DeMent III
Even if you have lost your driving privileges, North Carolina laws recognize that people need transportation to keep their jobs and care for their families.  Our criminal defense team will evaluate your unique circumstances and immediately work to get you back on the road with a limited driving privilege and as little impact on your life as possible.  In many cases, we can acquire reduction or dismissal of charges without you ever having to appear in court. In more serious cases, our criminal defense attorneys are experienced trial lawyers who know the law.  We are prepared and ready to handle your traffic charges starting today.

333 Fayetteville Street, #1513
Raleigh, NC 27601-2950
MOREHEAD CITY OFFICE:
810 Arendell Street
Morehead City, NC 28557
Client charged with level 3 trafficking in opiates which carried minimum mandatory sentencing of a minimum of 225 months (18 years 9 months) in prison. After months of negotiating with the prosecuting attorney and following a lengthy argument to the court, Defendant was sentenced to 65 months (5 years and 5 months) in prison with…
Read More
Client approaches a DWI roadblock. Smells of alcohol and performs ok on field tests though she does so some signs of NHTSA clues of impairment. She admits to drinking and blows positive for presence of alchol on the portable breath test. She is taken to the mobile breath testing bus at the checkpoint. She is…
Read More
Client charged with driving while impaired. LEOs respond to a serious collision where someone being taken to the hospital in EMS vehicle upon troopers arrival. The vehicle had flipped 2 times and landed in the median. Based upon information obtained at the scene, the LEO finds my client in the hospital with injuries consistent with…
Read More
Defendant charged with 2 counts of habitual impaired driving on his 7th total offense.  Were able to negotiate a plea consolidating the sentence to one term of 28 months in prison where he was facing the potential for 10 years or more.
Read More
Officers received a call about a suspicious person. When they arrived on the scene, they found the defendant in the driver's seat of a vehicle with his music turned up loud. They knocked several times, but the defendant did not answer the door. Officers opened the door and engaged the defendant in conversation. During the…
Read More
Client charged with DWI, driving while license revoked for impaired revocation, hit and run, and driving left of center. She was found on side of the road in driver's seat 400 yards from a collision, showed clues of impairment on the field sobriety tests and blew a .10 on the breath test. Found not guilty…
Read More
The defendant was employed at a fast food restaurant at which a shooting occurred. Upon review of the surveillance footage, officers were able to determine who the shooter was, and they were also able to see the defendant provide the shooter with the gun just moments before the shooting. The defendant was charged with aiding…
Read More
The defendant was stopped for speeding on the interstate by North Carolina State Highway Patrol. When the troopers approached the vehicle, they immediately noted smelling a strong odor of alcohol and cigarette smoke. They also noticed that there was a child in the car. When the troopers ran the defendant's information, they discovered that he…
Read More
All evidence suppressed in DWI case for an illegal stop where the LEO observed my client pause in a parking lot for 30 seconds before leaving the lot and then crossed a center line during a turn at an intersection. Held "No reasonable and articulable suspicion" for a traffic stop.
Read More
Motion to suppress and dismiss granted for lack of probable cause to arrest where my client was stopped for speeding, had an odor of alcohol, glassy eyes, admitted to drinking, as well as showed signs of impairment on the field sobriety tests. The court put little weight on the field sobriety tests because the officer…
Read More
Defendant was found asleep in the driver's seat of his vehicle while his car was in the middle of the road. When he was found, his license was currently suspended for multiple prior DWI offenses. He was awakened by officers and asked to do standardized field sobriety tests. The defendant performed poorly on each of…
Read More
Defendant charged with 2 counts of habitual impaired driving on his 7th total offense.  Were able to negotiate a plea consolidating the sentence to one term of 28 months in prison where he was facing the potential for 10 years or more.
Read More
Defendant charged with Level 2 DWI with one prior within 7 years. Was facing a potential sentence of 1 year in prison. Defendant attended a treatment program and really changed her life direction while the case was pending. We were able to get the judge to agree to accept the inpatient treatment as credit for…
Read More
Client stopped for speeding. LEO smelled odor of MJ about clients person. LEO search revealed burned MJ blunt. Defendant performed poorly on all physical tests but told the officer he suffered from a herniated disk in his lower back. On the horizontal gaze nystagmus (HGN) eye test there were no clues of impairment. A subsequent…
Read More
The defendant was an employee of a department store and was accused of stealing from the store. The store camera's showed the defendant, who was a cashier, not ringing up several items and placing it in a customer's basket. The defendant was approached by his store's loss prevention personnel and provided a detailed confession. Once…
Read More
Defendant had a head-on collision with injuries to both parties. He was given field sobriety tests on the scene of the collision and did not perform well on those tests with the exception of the Horizontal Gaze Nystagmus (HGN) test where he showed no signs of impairment from any central nervous system depressant. He admitted…
Read More
The defendant was involved in a single car accident in which he ran off the road and struck a tree. Officers arrived to the scene and conversed with the defendant. The defendant could not remember where he was coming from and admitted to consuming several beers before driving. After conversing with the defendant, officers' requested…
Read More
CRIMINAL DEFENSE SERVICES