If you have received a traffic ticket, or "citation," accusing you of violating any one of North Carolina's many traffic laws, you may be tempted to simply pay the citation and consider the matter resolved.   What many people fail to realize is that by paying the citation, you are making a legal admission of guilt. 
Under North Carolina law, there are many traffic tickets that can result in the accumulation of points with your insurance company and the North Carolina Department of Motor Vehicles (DMV), including the following:
Speeding tickets;

Speeding in a work or school zone;

Failure to obey traffic signals;

Unsafe movements;

Following too closely;

Making an improper lane change or turn;

Failure to yield;

Running a stop sign;

Running a red light;

Failure to reduce speed;

No driver's license; and,
If you are convicted or plead guilty to a traffic citation, points will be applied to your driving record for a period of time. The more points that accumulate on your driving record, the more you can expect to pay in insurance premiums, and the more likely your driving privileges may be suspended or revoked by the DMV. 
The outcome in your case will depend on many factors, such as, driving history, traffic citation(s) received, and the charging officer's account of events.  In addition to these legal considerations, other factors can often make just as much of a difference, such as the local prosecutors' particular inclinations, policies, and procedures, all of which differ from county to county and from one prosecutor to another. 
Our team of criminal defense attorneys is armed with unique insight and particularized knowledge accumulated over many years of practice in and around Wake County. Our familiarity and history with the prosecutors can make all the difference in assisting you. We are able to present the facts of your case in the most favorable light based upon the legal circumstances and local customs.  In every case, it is our goal to keep points from accumulating on your driving record. We can also appear in court on your behalf whenever possible to save you the time and expense of missing work.  
At DeMent Askew & Johnson, we have over 40 years of experience and a team of defense attorneys who have decades of experience in practicing criminal law in and around Wake and Carteret County.  We will thoroughly evaluate your case and put our years of experience to work for all traffic citations that you are faced with. Call us today for a free consultation with one of our criminal defense attorneys at 919-833-5555.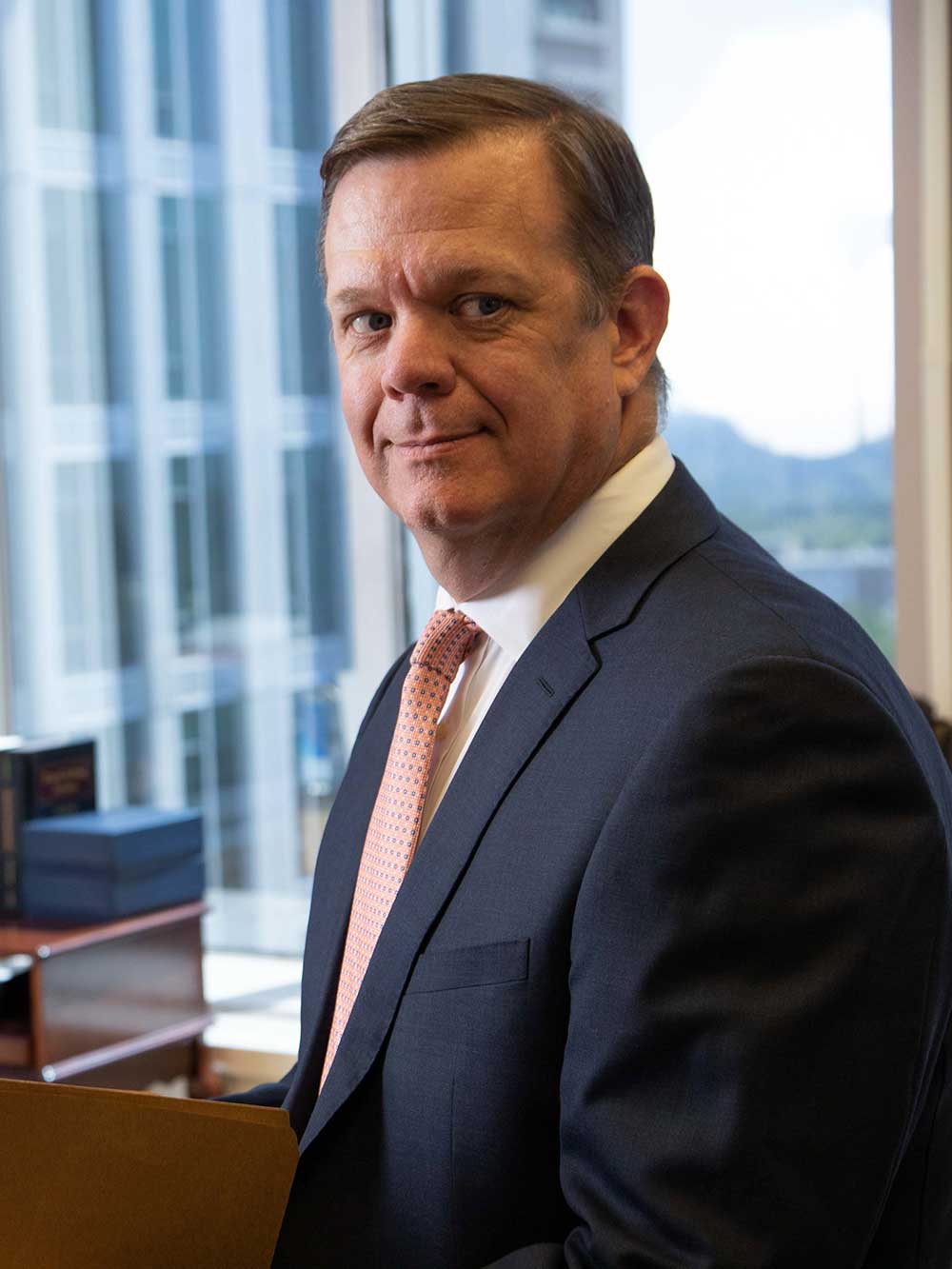 Russell W. DeMent III

333 Fayetteville Street, #1513
Raleigh, NC 27601-2950
MOREHEAD CITY OFFICE:
810 Arendell Street
Morehead City, NC 28557
Client stopped for speeding. LEO smelled odor of MJ about clients person. LEO search revealed burned MJ blunt. Defendant performed poorly on all physical tests but told the officer he suffered from a herniated disk in his lower back. On the horizontal gaze nystagmus (HGN) eye test there were no clues of impairment. A subsequent…
Read More
CRIMINAL DEFENSE SERVICES