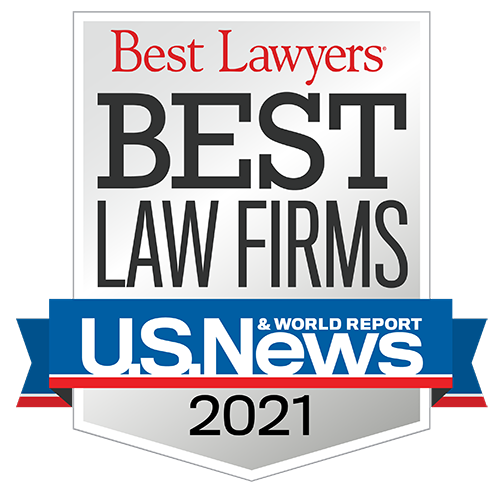 Firm Included in Best Law Firms for 4th Consecutive Year
The Raleigh criminal defense and litigation firm of Dement Askew & Johnson is pleased to announce that it has been included in the 2021 U.S. News – Best Lawyers in America Best Law Firms list for practice in Raleigh as follows:
Metropolitan Tier 2 – DUI/DWI Defense

Metropolitan Tier 3 – Criminal Defense: General Practice
This is the 11th consecutive year the Best Law Firms list has been published.  DeMent Askew & Johnson has been included in the list continuously since 2018. Russell W. (Rusty) DeMent III has been listed in the Criminal Defense General Practice Section of Best Lawyers in America since 2017, in the DUI/DWI Defense Practice Section since 2018, and is named the 2021 Raleigh Metro Area DUI/DWI Defense Lawyer of the Year. 
The 2021 Edition of Best Law Firms includes rankings in hundreds of national practice metropolitan-based practice areas in nearly 200 geographic locations. For a concise explanation of the methodology for inclusion in U.S. News-Best Lawyers Best Law Firms, visit their website at https://bestlawfirms.usnews.com/methodology.aspx. 
Our 50+-year-old, second-generation firm provides more than a century of cumulative legal experience to citizens of North Carolina. We represent clients in the areas of criminal and DWI defense, personal injury, malpractice and negligence, as well as property, wills, estates, and trusts. A beacon of stability, the firm has been centrally located in downtown Raleigh for five decades.