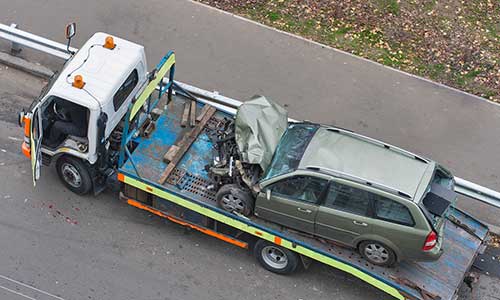 Man Moving from Georgia to West Virginia to be Closer to Family Hit by 18-Wheeler in North Carolina Receives $140,000.00 Settlement After Extensive Litigation
Mr. Johnson's client was driving a Dodge pick-up truck northeasterly on the on-ramp for traffic exiting off of I-485 and onto I-77 north in Charlotte. He was in the process of moving from Georgia to West Virginia and was pulling a U-Haul trailer. He had a full load in the bed of his truck. One of the items in the bed of the truck was a cement mixer. He felt an unusual pull or jerk on the U-Haul trailer and thought the trailer might have a flat tire. He pulled off the right side of the road and onto the shoulder of the road. He moved his truck and the U-Haul completely off the roadway and onto the shoulder and came to a stop. He then got out of his truck to check the trailer and found that the trailer did not have a flat tire. He then got back in the driver seat of his truck and was getting ready to start his engine.
At the same time, an International 18-wheeler tractor-trailer truck was also traveling in a northeasterly direction on the same on-ramp. As he was going around the on-ramp, the truck driver was exceeding the posted speed limit. As the 18-wheeler approached the location of our client's truck and U-Haul on the side of the road, the truck driver lost control of the tractor-trailer. The tractor-trailer tilted over to the right and overturned on its right side. As the tractor-trailer overturned, it landed directly on top of Mr. Wilson's U-Haul and truck.
The impact of the tractor-trailer landing on top of our client's U-Haul and truck forced the cement mixer in the bed of his truck through the passenger area of the truck. The cement mixer rammed into the back of his seat and impacted with the back of his head and his right shoulder. The tractor-trailer slid further down the highway on its side and came to rest in front of our client's truck. As a result of the collision, Mr. Wilson suffered severe injuries including a painful injury to his right shoulder initially thought to be a shoulder strain/sprain that was later determined to be a labral tear requiring extensive physical therapy.
The insurance company initially disputed that Mr. Johnson's client's shoulder injury was related to the collision. They also initially tried to argue that our client was partially at fault for pulling over on a part of the road that was not safe. We had to file a lawsuit and after extensive litigation, including numerous depositions, we successfully obtained a settlement at a mediated settlement conference in the amount of $140,000.00.
Attorney: James Johnson, Dement Askew
(Cases referenced do not represent the firm's entire record. Each case is different and should be evaluated on its own merits. The outcome of a particular case cannot be predicated upon a lawyer's past results.)