U.S. Department of Transportation Aims to Stop Drunk Driving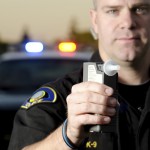 This Labor Day holiday will bring summer to a close, and people all across the country will spend the weekend celebrating with friends and family. For some, the holiday will bring tragedy, and to combat this, more than 10,000 law enforcement agencies across the country have joined the National Highway Traffic Safety Administration (NHTSA) for the 2014 Drive Sober or Get Pulled Over Labor Day campaign to prevent drunk driving. The year, the NHTSA said there is a "special focus on both the personal and economic costs of drunk driving."
Drunk Driving Report
In fact, the NHTSA reported this year, that the economic impact of driving drunk reached $47 billion in 2010, and jumped even higher to $195 billion when the loss of quality of life and loss of life were factored in. The agency said that in the U.S., nearly every 51 minutes, one person dies in a drunk driving accident. David Friedman, the acting administrator of the NHTSA says that the cost of drunk driving is "far too high for anyone to ever get behind the wheel after they've been drinking." (http://www.nhtsa.gov/About+NHTSA/Press+Releases/Nationwide-Drive-Sober-or-Get-Pulled-Over-crackdown-begins)
In its announcement, the agency said that auto accidents drivers who have a blood alcohol concentration (BAC) of .08 or higher cost the economy about $25,000 in drunk driving crashes, when quality of life is factored in. When the total costs included those for critical injuries, the economic cost jumped to $1.1 million, and when quality of life factors were included, the total increased to about $5 million.
U.S. Transportation Secretary Anthony Fox said in the announcement that drunk driving costs the country billions annually. He said, "[W]ith the help of law enforcement around the country, we are going to continue doing all that we can to stop drunk driving and needless tragedies that result from this reckless behavior."
According to the U.S. Department of Transportation, over 10,000 people die every year in the United States in drunk driving related accidents. Unfortunately, 35 percent of those who die in these crashes are not the drunk driving, instead they are passengers, the occupants of the vehicles involved in the wreck, and by-standers or others not in a vehicle.
Friedman reminds everyone: "Do not makes one of the last wonderful days of summer the final tragic day of your life – or someone else's- by drinking and driving." The Drive Sober or Get Pulled Over high-visibility campaign began August 15, 2014 and continues through to the end of the holiday.
Raleigh North Carolina DWI Attorneys
If you are facing a drunk driving charge in Raleigh, call the DWI defense attorneys at DeMent Askew. Our DWI criminal defense team has spent the last 40 years defending the rights of those in North Carolina and our goal has remained constant. We build your best DWI defense and work to the drunk driving charged brought against you reduced or even dismissed. Call 919-833-5555 now for a free case evaluation.