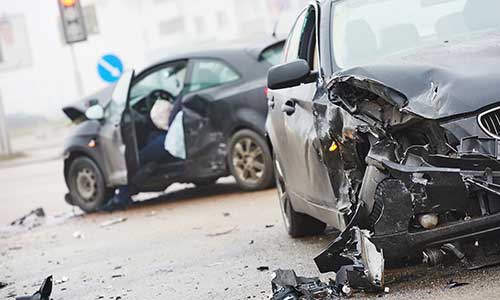 What to do if you've been in an accident.
Car accidents occur every day.  While the majority of North Carolina car accidents do not result in serious, long lasting injuries, a single collision has the power to change your life.  The Raleigh car accident lawyers of DeMent Askew have a reputation for getting clients the compensation they deserve.
Would you know how to handle an automobile accident?  DeMent Askew has some tips for handling a car accident in North Carolina.  But, you should only use this advice when you can safely do so.  If injuries prevent you from taking the recommended steps, attend to your health and the well-being of others first.
Advice from respectable car accident attorneys in Raleigh
Stay at the scene of the accident
For all auto accidents, you should not leave the place where the crash took place until it is appropriate.  Leave a note with your name and insurance information if your car hits a vehicle without a driver, but do not leave the scene to avoid your responsibilities.
Leaving the scene of an accident is a serious charge.  Remain at the scene to exchange information and discuss the incident with the police, if your injuries do not require immediate attention.
Check on passengers, drivers, and pedestrians affected by the accident
After a crash, make sure that everyone involved in the accident is conscious and responds to questions.  You can always examine the damage to your property afterwards.
If anyone is unconscious or extremely disoriented, or complains of pain in his or her neck or back, do not move this person.  A car accident attorney will advise you to follow these instructions for yourself, as well as others. Immediately contact qualified medical professionals, and remain as still as possible unless you are in imminent danger.
Get medical attention immediately
After a crash, you may worry that you cannot afford medical treatment.  TheRaleigh car accident attorneys at DeMent Askew encourage you to see a doctor if you are injured—and to complete the recommended course of tests and treatment.
A car accident lawyer from our firm helps you recover damages from negligent drivers and their insurance companies.  You may have a personal injury case if your car accident attorney in North Carolina can prove the following:
There was a legal duty to use care
Another driver violated that duty
The violation directly caused the accident and the injury
Call DeMent Askew, LLP, for honest advice from quality accident lawyers.
The firm has the knowledge and resources to investigate complex accident cases.  Our skilled car accident lawyers in North Carolina offer honest advice, negotiate aggressively with insurance companies, and seek to get every client fair compensation for his or her losses.
Contact DeMent Askew and arrange for a free telephone consultation with a car accident lawyer.  Our firm does not receive payment for legal fees if we do not get you monetary damages.